"All you have to do is write one true sentence. Write the truest sentence that you know."
So said Ernest Hemingway, Nobel Prize winner and one of the world's most respected authors.
Singled out for his incisive and sharp turn of phrase, he wrote simple, direct sentences to create maximum impact.
Words as weapons
Writing with such brevity and purpose is something every public relations practitioner should train in.
Stripping out unnecessary elaborate or ornamental phrases is a good habit for any writer to get into. It's especially important for public relations practitioners whose purpose is to engage with audiences in a relevant, creative and compelling way.
As public relations works hard to reinforce its natural place in content management and SEO, the ability to streamline copy and deliver punchy, memorable messaging is more and more important.
Help is at hand with the simple to use Hemingway app created by Adam Long and Ben Long.
Designed to make your writing more bold and clear, the app takes Hemingway's approach to writing and applies it to your copy.
Quick and easy user experience
Hemingway Editor takes little effort and time to use.
All you have to do is paste content into the editing app, or write straight into the browser to see where you should shorten or split complex sentences. The program identifies where different verbs can add force and highlights where the use of the passive voice weakens the overall message.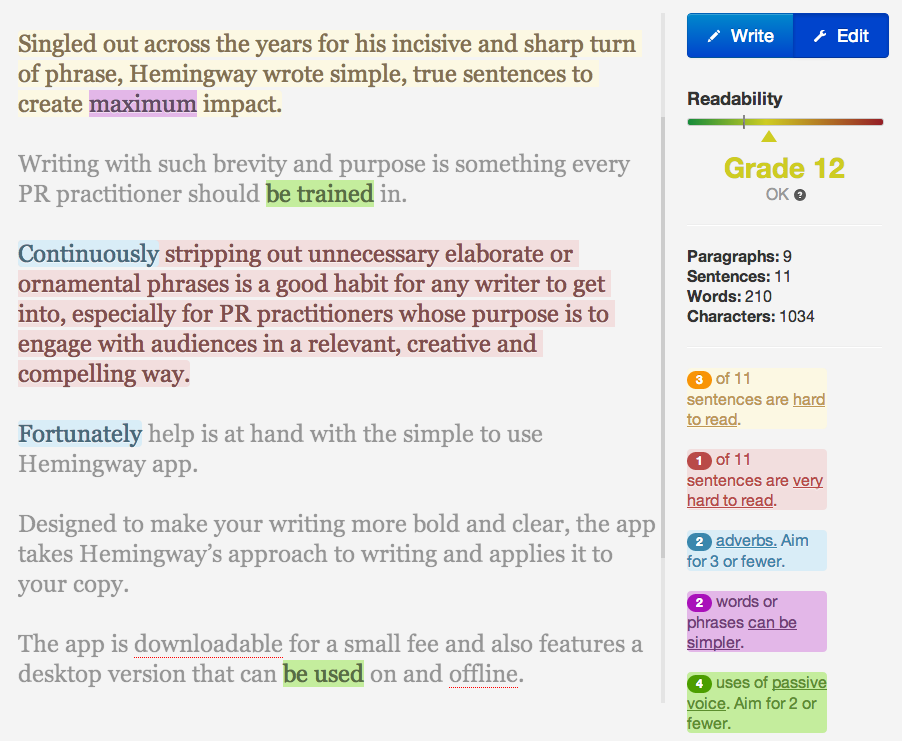 Hemingway Editor also provides a readability grade, with the objective being to achieve a Grade Level less than 10 for bold, clear writing. Anything less suggests your copy is increasingly difficult to understand and requires a higher level of education by the reader.
No excuses: low cost and mobile
Hemingway Editor costs $8.38 and is available to download for both Mac and PC. Both the desktop version and mobile app can be used anywhere without the need for an Internet connection.
Those using Hemingway to write for web also have the benefit of Markdown, which turns text into HTML markup without having to create all the tags. You can see your Markdown and HTML side-by-side until you're ready to export the full HTML and publish online.
Ultimately with an app as simple as this, there is no reason why your writing style can't be much bolder and clearer.
Hemingway said that when he was trying to break down his writing, it often took him a full morning of work to write a paragraph. Now you can do it at the touch of a button.